<br>
<br>
<br>
<br>
<br>
<br>
Ermioni Oil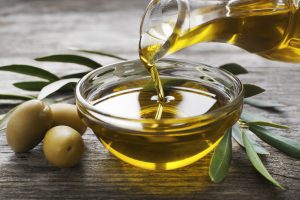 You know you are Greek, when you use olive oil at least two to three times a day. Without Greek olive oil, there would be no Greek cuisine. The country is the world's third largest producer of olive oil, but comes first in terms of production of native oils and consumption of over 20 liters per person per year.
Most households have their own olive harvest and produce the amount of oil they need for a year. If the production is larger, it is usually sold regionally.
The most important Greek olive is the tiny green "Koroneiki" olive.
There are 15 Greek olive oils with protected designation of origin and another 11 with PGI status (protected geographical indication), which certifies the outstanding quality of the products.
In Greek cuisine, olive oil is not only the essential cooking fat, but also the essential sauce and garnish, which is drizzled raw over countless dishes from fish to beans, and is even used in baking. Olive oil is such an integral part of Greek cooking that there is a whole category of dishes based on olive oil called "Ladera", after the Greek word for oil, "Ladi".
For some years, there has been a move towards bottling and a move among top producers towards oils that fall under the recently cited Super Premium category.
Cold-pressed olive oil is obtained by pressing the olives mechanically without heat. This preserves the fine flavors and nutrients such as vitamins A and E. In order to preserve the nutrients, the olive oil is packed in a light-protected container.
Because the olives are pressed on the day of harvest, this olive oil is particularly fresh and enthusiastic with a slightly spicy taste and a natural, golden green color. Let us take you with our olive oils into the world of noble delights. You will not want to cook without it anymore.
Contacts
You can find our contact details below or just send us a direct message.
Frankfurter Straße 1c 35578 Wetzlar Germany
+4917631675334 , +306981864425
Get In Touch
Send as a message and we will reply as soon as possible.